Machine Learning for Materials Research: Bootcamp & Workshop 2016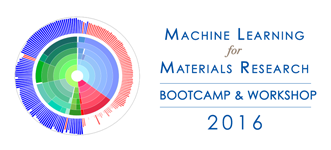 Host:
University of Maryland
Dates:
June 28 - July 1, 2016
Location:
Jeong H. Kim Engineering Building, University of Maryland, College Park, MD
Sponsors:
National Institute of Standards and Technology (NIST)
University of Maryland
Bootcamp
The bootcamp consists of three days of lectures and hands-on exercises covering a range of data analysis topics from data pre-processing through advanced machine learning analysis techniques. Example topics include:
Identifying important features in complex/high dimensional data
Visualizing high dimensional data to facilitate user analysis.
Identifying the fabrication 'descriptors' that best predict variance in functional properties.
Quantifying similarities between materials using complex/high dimensional data
The hands-on exercises will focus on demonstrating practical use of machine learning tools on real materials data. Attendees will learn to analyze a range of data types from scalar properties such as material hardness to high dimensional spectra and micrographs.
Workshop
The workshop will feature talks by top researchers in the field as well as open discussions in which attendees can discuss their data analysis needs with experts. Program for the Workshop is to be announced on a later date.
Sponsors